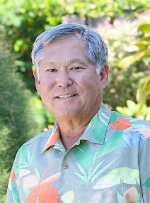 Berton Hamamoto (B) ABR, CRB, CRS, CFP
REALTOR® • Owner • President • Principal Broker • Property Manager
Office: (808) 487-9500 ext. 207
Cell: (808) 383-7407

Real Estate License - Broker for 30+ Years
2007 President of the Honolulu Board of REALTORS®
2009 REALTOR® of the Year, Honolulu Board of REALTORS®
2011 President of the Hawaii Association of REALTORS®
2014 REALTOR® of the Year, Hawaii Association of REALTORS®
·
ABR
®
- Accredited Buyer Representative
®
· CRS
®
- Certified Residential Specialist
®
· CRB
®
- Certified Real Estate Brokerage Manager
®
· CFP - Certified Financial Planner
·
Graduate REALTOR
®
Institute (GRI) Instructor, Essentials Instructor - Contracts
· 2002 Hawaii CRB
®
Chapter President, 2004 Recipient of the CRB
®
Pinnacle Award
· 1999-2003 Chairman - Honolulu Board of REALTORS® Grievance Committee,
Chairman - IDX/VOW Committee
· 2003-2006 Director - Honolulu Board of REALTORS®
· 2007 President of the Honolulu Board of REALTORS®
· 2006-2008 Director - Hawaii Association of REALTORS®
·
2007-2008 Director - National Association of REALTORS®
· 2008 - 2012 Director - HiCentralMLS Ltd.
· 2009
HBR
REALTOR® of the Year
· 2005-2006 Director - CRB
®
Council
· 2011 President of the Hawaii Association of REALTORS®
· 2014 HAR REALTOR® of the Year
· Member of NARPM
®
- National Association of Residential Property Managers
®
· Member of RNO - REALTORS
®
Networking Oahu

Berton was born and raised in Honolulu, Hawaii, first growing up in Palama, then moving to Moanalua Gardens as a young boy. He attended Moanalua Elementary and Intermediate Schools, and then graduated from Farrington High School. He then went on to the University of Southern California (USC) where he graduated in 1977 from the School of Business with a degree in Marketing.

After a few years of working in the hotel food and beverage departments of Sheraton and Hawaiian Regent Hotels as a restaurant manager, Berton started with a financial planning firm specializing in annuities and insurance products. From there, he got his real estate license and specialized in handling the real estate transactions for the firm. In 1985, he acquired his real estate brokers license and headed the real estate division for the financial planning company he was with at the time. In 1987, he earned the coveted designation of Certified Financial Planner (CFP), a designation only held by a few individuals in Hawaii. In 1992, Berton formed his own real estate company, Property Profiles Inc. where he is currently the Principal Broker and President. Over the many years that he has been involved in real estate sales and property management, Berton has distinguished himself as a leader in regional and national real estate organizations. He was the 2007 President of the Honolulu Board of REALTORS®, a Director of the Hawaii Association of REALTORS®, a Director of the National Association of REALTORS®, and a past Director of the Council of Real Estate Brokerage Managers (CRB). Berton is a past President of the Hawaii CRB
®
Chapter, and has been actively involved in various committees with the national organization. He was awarded the Hawaii CRB
®
Chapter's Pinnacle Award in 2004, an award recognizing outstanding achievement by a chapter member. He has been a member of the Honolulu Board of REALTORS® Professional Standards Grievance committee, (the committee that oversees professional and ethical conduct of it's members) and has been the Chairman of that committee for four years. He is also a member of the RNO group. A network of real estate companies and REALTORS® who share ideas, listings, and promoting education within the organization.

In the field of property management, Berton is one of the few REALTORS® in the State of Hawaii who is qualified to teach GRI
®
(Graduate REALTOR
®
Institute) courses on property management. He recently joined the NARPM
®
(National Association of Residential Property Managers
®
) organization, and is currently working toward his RPM
®
designation. He is a member of the Oahu NARPM
®
Chapter.

Berton has been married to Marsha Aseka Hamamoto (UCLA '78) for the past 29 years. They spend a lot of their spare time helping raise their two nieces, Tiana and Sierra. Berton is an avid golfer with a single digit handicap, and is a proud member of the Na Auana Golf Club. His other hobbies include running and spending time with his family.